Can Man City smash the Premier League points and goals records?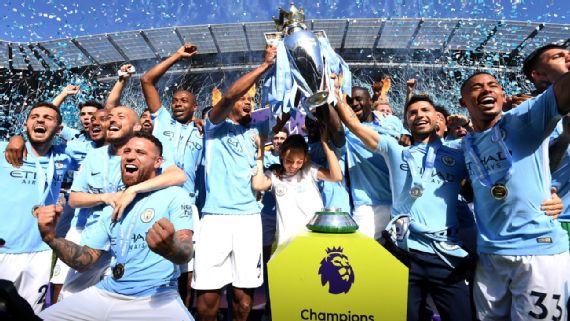 Manchester City are being hailed as one of the greatest Premier League sides after Pep Guardiola landed his first title in England.
City have the most points of any side after 37 games (97: W31, D4, L2) and have the opportunity to write their name in Premier League history by breaking some of its records.
Here are 11 records that City could (and some cases, already have) set by the end of the season.
1)
Biggest title-winning margin
: Manchester United won the 1999-2000 season by 18 points from Arsenal. City have a 20-point gap over United but Jose Mourinho's side have an extra game to play and two wins would make it a 17-point margin. Possibility: 7/10
2)
Earliest title success:
United's 2000-01 team held the record, winning the league with five games remaining. City have now equalled that record after United's shock home defeat to West Brom. Possibility: Already achieved.
3)
Most points
: City moved onto 97 points with a victory over Brighton over taking the record of 95 set by Mourinho's Chelsea in 2004-05. A win on the final day of the season would see them become the first English team ever to reach 100 points. Possibility: Already achieved
4)
Most goals
: Another record achieved with a game to go. City are now on 105 goals with a game remaining -- scoring at a rate of more than 2.8 per match. Carlo Ancelotti was in charge at Stamford Bridge when Chelsea set the previous record of 103 goals. Possibility: Already achieved.
5)
Most wins
: Antonio Conte's Chelsea record of 30 wins lasted only one season with City bringing up their 31st victory of the season with a win against Brighton. Possibility: Already achieved.
6)
Most consecutive wins
: Arsenal (2001-02) and Chelsea (2016-17) held the record with 13 straight victories but City moved passed that with their derby day win at Old Trafford on Dec. 10 before extending the record to 18 matches. Possibility: Already achieved.
7)
Most away win
s: Mourinho guided Chelsea to 15 victories from 19 matches in 2004-05. City equalled that record at the London Stadium last Sunday and can set a new record on the final day of the season at Southampton. Possibility: 9/10
8)
Best goal difference
: Chelsea won the 2009-10 on the final game of the season when an 8-0 victory over Wigan Athletic gave them a goal difference of +71. City are currently on +78 and only an extraordinary defeat on the final day of the season would stop them from setting a new record. Possibility: 10/10
9)
Highest average possession
: Possession statistics only go back as far as the 2010-11 season. Guardiola's City set the record last season with an average 64 percent possession per match but they are set to smash that this season with their average possession currently standing at 71.3 percent. Possibility: 9/10
10)
Most passes
: Again the statistics only go back to 2010-11 and again Guardiola's City set the record during his first season with 26,804 completed passes at an average 84 percent completion. They have already amassed 26,084 passes this season. Possibility: Already achieved.
11)
Most consecutive Premier League Manager of the Month awards
: Guardiola equalled Conte's record of three successive manager of the month awards after a perfect November and then went one better when he won the award for a fourth time in December. Possibility: Already achieved.
http://www.espn.co.uk/football/club/man ... ls-records