The YeyeMan wrote:
Waffiman wrote:
Ebyboy wrote:
That was a robust performance, full of vim and vigor.
I never thought I would see the day when we would
make a team like Liverpool play for a draw.

My favorite moment of the game was Xhaka's tackle
on Salah. Just sweeeeeeeet!

Lacazette's goal was a close second. We balled.
Xhaka was outstanding.
He was OK. He gave the ball away cheaply throughout the 1st half...




According to AFC's official website:
"More passes than anyone else on the pitch
More recoveries than anyone else on the pitch
More tackles than anyone else on the pitch
Pretty impressive stats, Granit"
Xhaka made twice as many tackles as anyone on the pitch in the 1st half, also completed more passes in the opposition half. He did all that giving away the ball the least of all the midfielders on the pitch in a ridiculously high paced, close quarter in your face, high pressing first half.
He gave the ball away 8 times (3 times ball went put of play, twice intercepted in his half and 3 times in the opposition half) in the first half, he gave it away the least of all midfielders in that first half. He had the best numbers, in almost any stat to any player on that pitch, including the most distance covered and most sprints. Most of his sprints were for defensive actions, like pressing the opposition.
Xhaka is the type of player you have to focus on to really appreciate how good he is. Usually, it is only when he makes a mistake he gets noticed during a game. People just do not understand what he does. He starts every single game for a reason. He has the longest contract at the club for a reason.
If you want more numbers, I can give it to you. Xhaka had a stormer of a game. He did not just pass, he passed it with purpose, he hurt Liverpool with some great passes, he had the stadium gasping with some of his packing passes.
Nobody has defended the player more than me to his critics in that stadium, they are now admitting they were wrong about him. Before a ball was kicked this season, I told them all about how Torreira will make us see him playing his best position. Today, he and Torreira bossed Liverpool in that midfield.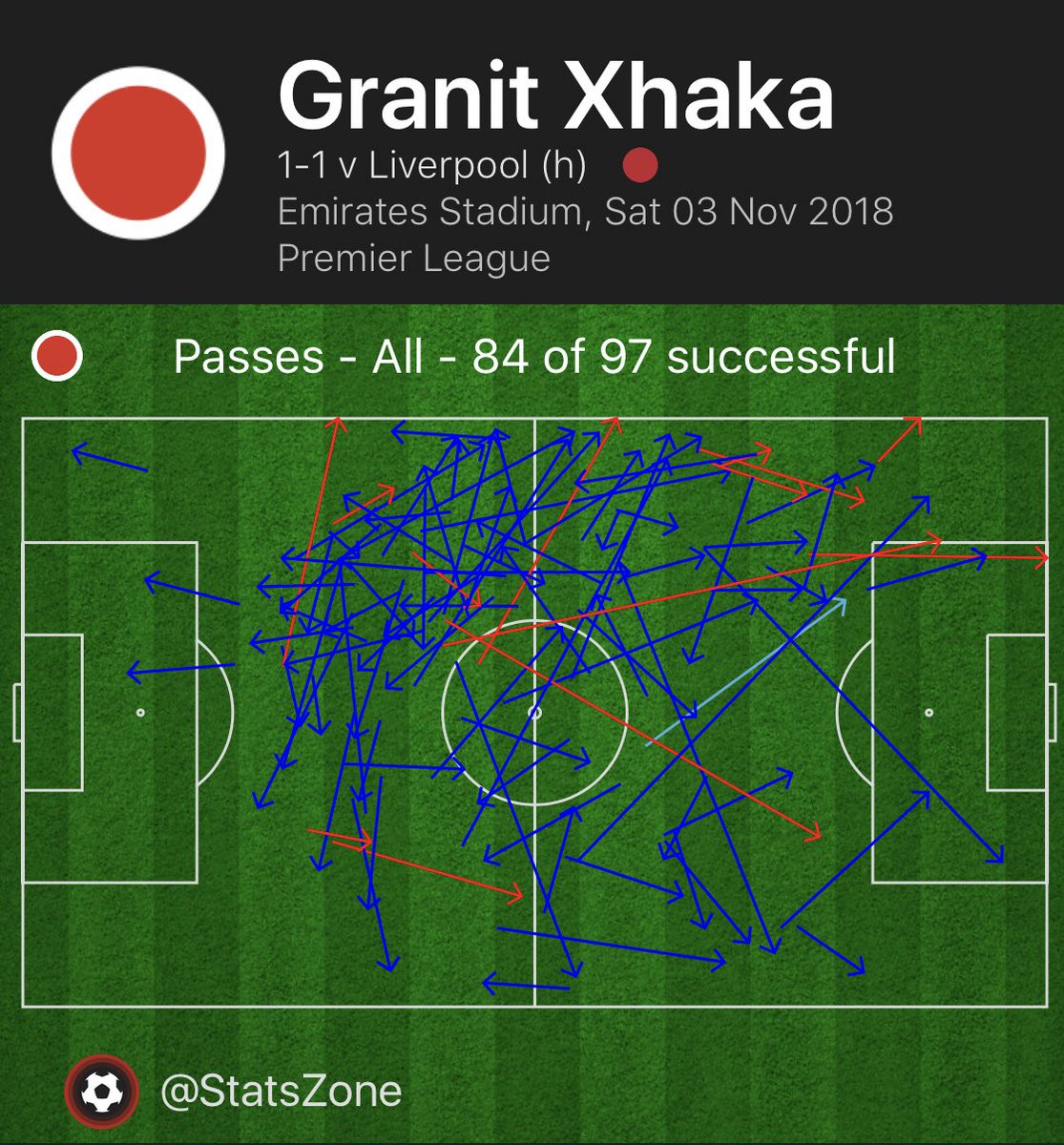 Have a look at Xhaka pass map. He had 13 unsuccessful passes all game. You do not want to see Fabinho's.
Notice how good Arsenal's midfield became with him returning from left back. Now you hear this rubbish about Xhaka improving, like they claim with other players they have criticised and written off unfairly. These people just don't want to admit they were wrong. Xhaka has always been a damn good player. This rubbish about him improving this season is BS told by those with an agenda. For the past 12 months, he has consistently been our best player and I have been banging on about it here and to everyone who knows me and like football.
He has also played with more partners than any Arsenal midfielder I know of in the time he has been at the club, also playing different roles in that midfield. All these have helped him develop to being the player he is now in this league. He is only 26, I am glad he is locked on a 7 year contract, if he decides to leave, we will get a ton of money for him.
Something I noticed about him from the way he recovered from being picked on and getting sent off earlier in his Ardenal career was his unbending iron will to succeed. He is as tough as you will get mentally. He is unbreakable and a real leader.
BTW! After his performance at LB in which he showed so much battling qualities, character and leadership, he has won serious respect in that stadium. You should have seen what he did when Liverpool scored. He was the one who led the troops by shouting words of encouragement to them when the likes of Bells, Kolasinac Holding etc were down cast. Ozil was made Captain for tge gsme and he was good too, but you now hear things like Xhaja should be the Captain of the team on a permanent basis in that stadium. For me, he has always been Captain Xhaka.