Nkume wrote:
What I don't understand is why people can't give Unai credit without slating Wenger?
It is irrational, it is revisionism, it is a desperate attempt to justify their shallowness. Wenger was at Arsenal for 22 years, his achievements both on and off the pitch are monumental. You do not compare someone who has been at the club 3 months to 22 years. Worse, You do not paint his entire 22 years with the same brush. Emery has done a great job so far, but why compare his impact to Wenger? If you are intelligent, you know these things are nuanced and it is best to stay quiet and not make yourself a f00l, if you cannot put it into context.
My family is full of ManU supporters and all of them are highly learned people who never take things at face value, today they cast an envious glance at Arsenal. Why? They admire how Arsenal have managed the transition from Wenger to Emery. They know Arsenal have learnt lessons from ManU and have tried to avoid ManU's mistakes. They know the person who would have wanted to ensure his legacy is intact was Wenger himself.
They are aware of how Wenger stayed on whilst changes, (which I have documented here in detail over the last 3 seasons) were made to every facet of the club. It is only now that ManU are looking to move on from the Manager structure, that ended at Arsenal with Wenger.
They can see how Arsenal's structural changes have benefited the club. To his last days, he made the sacrifices financially to make changes like building of a new medical centre, 'renovating and upgrading Hale End, renovating and upgrading London Colney, the complete overhaul of medical and fitness staff etc etc. All of these cost over £70m, in that time other were spending on their squad and Wenger could not buy without selling. He managed it all till the others caught up in his last two seasons when he turned over a whole squad of players, with 17 leaving in two windows. I have documented it all here and in other places.
If you th8nk it is just me talking, those who know like this chap are writing about it as well.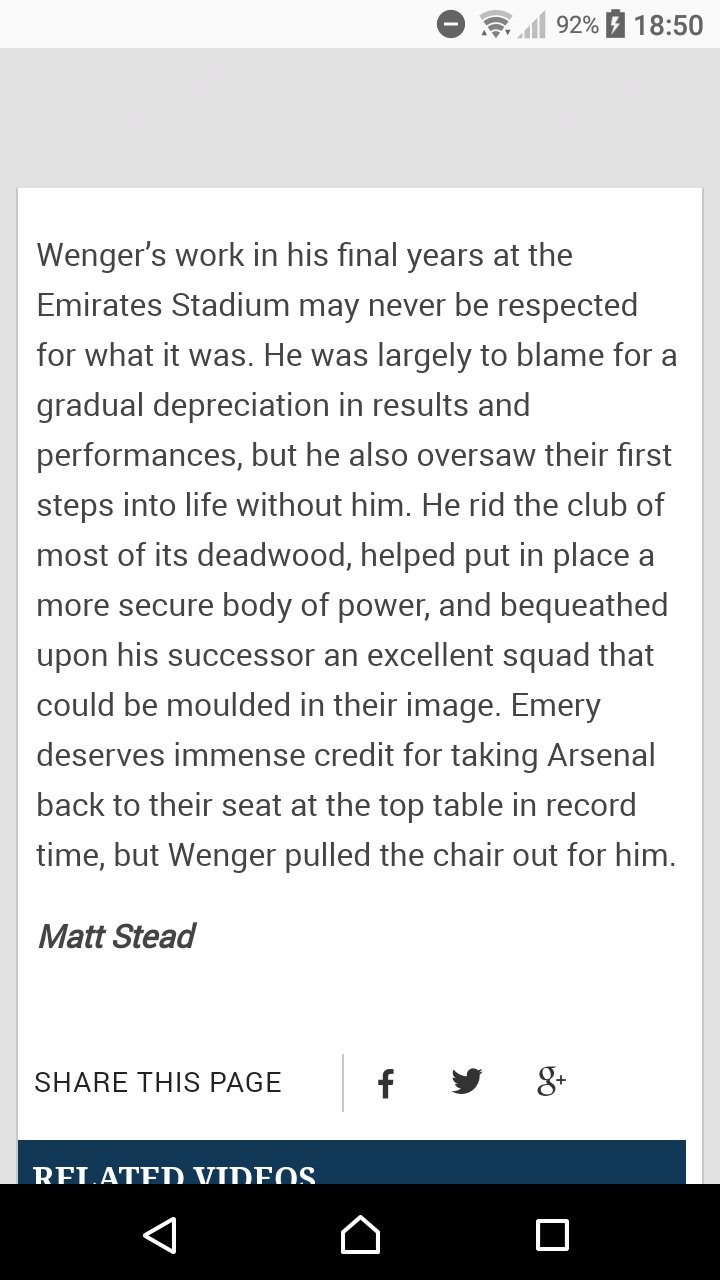 I witnessed Wenger's work with the youth at first hand. I saw it all take shape. I can write a book about it if I want to. The club is full of outstanding young players from his vision of a decade ago. In the first team squad and the levels below. He also left the most potent front line for 10 years and millions in the bank. Wenger delivered on his promise.
I love Wenger with all my heart and Soul but he in a good place now. Emery is the perfect replacement. He has started off a lot better than many expected and I am loving the honeymoon period. I love the current positivity. I love the Support. I want this to last forever, but I know it won't, so I enjoy whilst it lasts.
It is always very refreshing to read your views.
Emery has done a great job, and the future looks very bright. I just hate hearing anyone slate Wenger. Also, Wenger's time was up, but he deserved a glorious send off by ALL Arsenal fans.