Nigeria Fans Are All Saying The Same Thing About Kelechi Nwakali After Dazzling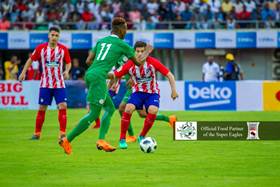 Arsenal midfielder Kelechi Nwakali's outstanding display in the 3-2 loss to Atlético de Madrid in a friendly on Tuesday evening got Super Eagles fans talking.
Apart from netting a very beautiful opening goal from outside the box, the former Flying Eagles skipper's dazzling skills were put on display in Uyo and Atlético Madrid's Ghana international Thomas Partey resorted to being aggressive in order to stop him.
Though Super Eagles fans have questioned the decision to omit Kelechi Nwakali from Nigeria's 30-man preliminary World Cup roster, he still has a chance of playing in the tournament, only if one of the 23 players heading to Russia suffers an injury.
Here's what the Super Eagles fans said about the performance of Kelechi Nwakali :
@J_asmineA : ''If they can take him to world cup seff.. Add kelechi Nwakali remove anyone''.
@BoniqqUmoh : ''I have always clamoured for Kelechi Nwakali's invitation to the Super Eagles,dude is class...way better than most of our current midfielders...@thenff pls talk to Rohr,that's Mikel's heir apparent ryt there,am trembling,saw hs sublime passes & screamer?''.
@AObilana : ''Hmmmm the highlight of Kelechi Nwakali goal I just watched is giving me joy. What if this young man gets on the world cup list ahead of Ihenacho or Iwobi?''
@ujagadom : ''Kelechi Nwakali ought to be in Rohr's @thenff #Russia2018 list''.
@jayson_1010 : ''Shuld be in the WC list!!! Classic goal Great performance #SuperEagles''.
@sirwebs : ''Why is Kelechi Nwakali not going to Russia @thenff ?''.
@DonbayTips : ''I am loving this kelechi Nwakali All the way bro #RUSSIA2018''.
@fabianobi : ''Kelechi Nwakali the only football player in @NGSuperEagles team in this match Drop all this ***''.
@fillskuku : ''Is it not too late to add kelechi nwakali to Russia bound squad.''
@Temidayojnr : ''Kelechi Nwakali is a very good player.''
@Dr_Xcizzie : ''I think Kelechi Nwakali should be on the super eagles team to the world cup, as back up.''
@Debizzzle : ''#Kelechi nwakali should pls replace onazi on that list Asap "super eagles" #NigAtl''.
@cam14uche : ''@NGSuperEagles coach please check your world Cup list again @KelechiNwakali have to be there, he deserves it, no player in the National team midfield expect mikel Obi can fit to his standard, please give him a chance''.
@otuya_m : '' hope there is space for @Kelechi_nwakali to make the #WorldCup else our coach should drop one of the midfielders cos this dude is the missing link..''
@IamSEGE : ''Kelechi Nwakali should be at the WorldCup''.
@MrSangotoki : ''Kelechi Nwakali is a star for the present and future''.
@JustEkene : ''Kelechi Nwakali should be on the plane to Russia. He's world class!''.
@Paulanyanwu24 : ''Kelechi nwakali should replace uche agbo immdiately''.
@OhioPerry : ''Kelechi Nwakali should be in Russia''.
Ifeanyi Emmanuel


http://www.allnigeriasoccer.com/read_news.php?nid=27845