Thelastoneleft wrote:
Bouncer wrote:
ohenhen1 wrote:
Nigeria and Ghana should launch a joint bid. Opportunity to fix the stadiums in Abuja and Lagos.



The teslim Balogun stadium is getting natural grass.

Abuja stadium is getting fixed for the National games.

Akwa Ibom, Asaba stadium, Port Harcourt stadiums are ready to go.
The war in Cameroon is the reason why their hosting right was cancelled
, so why do you think CAF will host same competition in war torn zoogeria? And you systematically left out northern zoogeria's stadiums.


Exactly! The war is the main reason for the CAF decision. All mention about infrastructure is just secondary.
- Since January 2018, our tweeter squad has been working relentlessly bombarding @CAFonline, @TOTAL and @AFCON2019 with pictures of the on going genocide, especially in cities and areas that were planned to host games and teams. We were made up of a squad of about 80 tweeter warriors, each with a duty to send at least two tweets per day reminding them of #CABINDA2010 and warning that worse will happen if they insisted to collaborate with La Republique du Cameroun on hosting that tournament on our land.
- Two months ago, our interim government (the Ambazonia government in exile) wrote a powerful letter to CAF (CAF acknowledged receipt in a registered letter) petitioning the hosting of the games on Ambazonia soil, highlighting the war and that players, fans and officials will not be guaranteed security should CAF and La Republique insisted on hosting in Ambazonia.
- A few weeks later, CAF president Ahmad Ahmad made an emergency visit to Paul Biya during the heat of the election campaigns. This meeting was so important that Mr. Biya had to cancel campaign stops. During that meeting, Ahmad Ahmad suggested to Mr. Biya that all games and host centres in Ambazonia be moved to La Republique du Cameroun for security and safety reasons. As arrogant as always, Mr. Biya refused and insisted that the La Republique military was in complete control and that there was calm.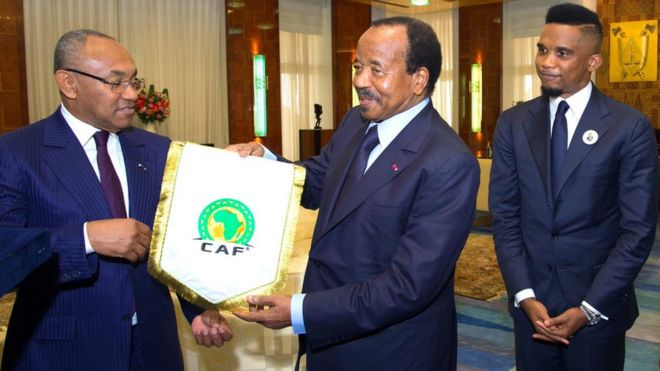 - The final straw came after our people completely boycotted the La Republique du Cameroun organized presidential elections in our territory heeding to the ban of the elections imposed by our interim government (turn out in Ambazonia was less than 5 %). This happened even though Mr. Biya had mouthed off to the national and international community in a futile show of force that election would take place hitch-free on our land. After the elections boycott, our interim government wrote again to CAF pointing at the elections boycott as the fate that CAF should expect for AFCON 2019 in our land.
- On October 15th, American Congressman Dana Rohrabacher also wrote directly to Infantino of FIFA to urge CAF to strip Cameroon of hosting rights, citing the war and security concerns.
- After further consultations with the Biya government, CAF and Biya agreed that CAF should make a visit to Ambazonia to assess the security situation. That delegation was led by Amaju Pinnick. An insider in the Biya government tipped us on the planned CAF visit (date and itinerary). Immediately, we mobilized our fighters to station along the Mutengene - Victoria stretch of road at the time that the CAF delegation was on its way to Victoria. The Pinnick team was led and guarded by a military convoy armed to the teeth. However, that didnt scare our boys. There was heavy exchange of gun shots between our fighters and the convoy just after the Ombe bridge that lasted a few hours. Even though no one was hurt, the message was clear and that was the last stroke on Cameroon´s dream of AFCON 2019.
- With this decision, CAF has acted very responsibly.
The CAF President Ahmad Ahmad has given his first public interview since the CAF decision:
For those who do not understand French, just fast forward to 6:40 minutes. Ahmad Ahmad said it there clean and clear that SECURITY and the need to avoid a repeat of CABINDA 2010 was the deciding factor for CAF´s final decision on Cameroon.
Let me add some explanations to my previous post.
During the meeting with Biya in Yaoundé in early October, Ahmad Ahmad made it very clear to Biya that CAF would not play games or allow teams to be hosted in Ambazonia. They made an offer to Biya that Cameroon could use only Yaoundé and Douala to host the games and co-host with any of it´s neighbors (Nigeria, Eq. Guinea and Gabon were cited). Biya refused the offer categorically because to him, that would be proof to the world that he has no control over Ambazonia. He insisted that games must be held in Ambazonia.
Coming out of that meeting, when Ahmad was asked if Cameroon would stay as host of AFCON 2019, his response was: "It depends on Cameroon if they want to host. We have told them clearly what to do and they know what to do to host the tournament".
Our insiders in Biya´s government have tipped us of Cameroon´s next move. Cameroon is planning now to fake a cease fire in the war and make a fast re-application to be re-considered. That is why the first thing Biya did after the CAF announcement was to create a so-called National Committee for "Disarmament, Demobilization and Reintegration". The said aim of the committee will be to encourage our fighters to drop their arms. Biya knows very well that we will never drop our arms but he is too arrogant to face up to that fact. So what he actually plans to do though, is to gather some fake fighters to fake a surrender so that he will show to the whole world that the crisis has been resolved and lure CAF to re-consider them for AFCON 2019. However, CAF is well aware of their scheme that is why Ahmad mentioned in the above video that Cameroon should not even bother to re-apply because they will not be considered.