Five things on Terem Moff

i
Publish on 17/02/2021 at 18:23 - D. CROSSAN
With six Ligue 1 Uber Eats goals in 2021, Nigerian forward Terem Moffi is well on the way to keeping Lorient in the top division.
Recruited for around eight million euros from Belgian club KV Kortrijk last autumn the well-travelled 21-year-old is flourishing in Brittany. Monaco's Wissam Ben Yedder is the only player who can match the striker's six league goals this calendar year and Moffi's goals have helped Lorient go unbeaten in five games, winning three of them, to stand 17th, five points above 19th-placed Nîmes.
Moffi made an instant impression with Les Merlus, scoring on his debut in a 3-1 win at Reims but that was his only goal in his first 10 matches for the club. He has now settled perfectly and has struck seven goals in his last eight appearances, including his first Ligue 1 Uber Eats double in the Round 25 2-2 draw at Monaco.
Born in Calabar, Nigeria on May 25 1999, Moffi was immersed in football from a young age. His father Leo was a professional footballer, a goalkeeper, who notably appeared for Enugu Rangers. While at university, Leo became good friends with Chuka Iwobi, father of current Everton player Alex, with whom Terem spent a lot of time growing up.
"Van Persie was the best for me"
Terem had plenty of Nigerians to look to for inspiration, telling Ouest France: "I grew up watching Jay-Jay Okocha, Obafemi Martins, Nwankwo Kanu, and then Victor Osimhen. I watched the last play a lot, and then we played together, and he's a real model for me. I'm also a big fan of Robin Van Persie. He was the best for me."
Terem left Nigeria at the age of 17, finishing his studies in England at the
Buckswood Football Academy
. He told Ouest France: "I managed to get into an English school at the age of 17 because of football. I chose this life and I wanted to succeed in football. In life you mustn't stay in your comfort zone and you need to go out and make things happen. You need to take risks."
He joined Lithuanian club Kauno Zalgiris not long after going to England before heading to Zalgiris' fellow Lithuanian club FK Riteriai. Visa problems delayed his debut but he was prolific for Riteriai as he banged in 20 goals in 31 games, enough to see Kortrijk swoop in January 2020. Despite the pandemic, things again moved quickly for Moffi as on October 1 he left the Belgian league to move to France.
"Ligue 1 is a couple of levels above the Belgian game"
Moffi hasn't done things the straightforward way. Of his time in Lithuania, he commented: "I didn't know anything about the country. I had to go on to Google to see what it was like, the food, the culture. The start there was tricky as I had never experienced the cold before. It was difficult to adapt."
In Ligue 1 Uber Eats, Moffi has taken his game to a new level. He said: "Ligue 1 Uber Eats is a couple of levels above the Belgian game. I needed to adapt my style of play, het used to the opponents, progress both physically and tactically."
Pelissier: "I ask him to take risks"
1m88 tall, weighing in at 89 kilos and fast, Moffi is now terrorising Ligue 1 Uber Eats defences, including netting the winner against champions Paris Saint-Germain in January. Delighted Les Merlus coach Christophe Pelissier said: "He gets into space well and makes good runs. He has the capacity to turn quickly and go forward. Terem is generous and can play good passes as he's intelligent. I ask him to take risks. He's mentally fresh and hasn't been formated. He tries things and I encourage him to do that."
https://www.ligue1.com/Articles/ONE-TO- ... ia-lorient
Terem Moffi: Chelsea fan, 'lazy midfielder' who took Belgium by storm
Score Nigeria Editor by Score Nigeria Editor May 17, 2020 12:16 pm
A closer look at winter transfer Terem Moffi, 20, who made a quick start at KV Kortrijk in Belgium.
In Kortrijk they knew right away – Terem Moffi is not the type who reluctantly arrives at a club and tries to find his way around, he is someone who is upbeat about life and thinks of possibilities and not problems.
After the first day at the Golden Spurs Stadium, the young striker was already integrated to the squad and his open-mindedness and positivity also stood out on the field.
He looks like a boy without worries, without pressure.
"Being grateful and enthusiastic are key to football," he said. "It's the reason you play football: to be happy, to be free, to play and to enjoy the moment.
"That's what I try to do every time. Every day, every training, every game. We have worries, but when you enter the field, you must leave those worries on the sidelines and only pick them up when you leave the field.
"Whatever the circumstances, it is the mentality that determines what you make of it."
African inspiration
Moffi was raised in Calabar, a city in southeastern Nigeria, in a religious family of well-educated parents with four sons.
"We are Pentecostal Christians (Christian movement who interpret the Bible quite literally, ed )," he said.
"Our faith helps us to look to the future with confidence and to do what it takes to make our dreams come true.
"We read the Bible and pray not only because we believe, but also to understand more, in peace and quiet and the presence of God.
Moffi was Player of Season at Lithuanian club
"My father is a lawyer and my mother works for the national health insurance. My younger brother is 18 and has started law studies. My older brother studied medicine in Russia and my oldest brother majored in public administration in Manchester.
"I was ready for university myself, but I couldn't go because of football." (he laughs )
He also said football is in the genes.
"My father was a goalkeeper in the Nigerian league and all my brothers played football," he revealed.
"Only my mother never played football, but she understands the game. She knows many players and many coaches and she is a supporter of Chelsea.
"Actually it is through her that I also became a Chelsea fan. That started during the successful period under José Mourinho , when many Africans played at Chelsea – Didier Drogba , Claude Makelele , Salomon Kalou , John Obi Mikel , Michael Essien ."
These are great source of inspiration for young players in Africa who dream of a career in Europe.
"When you see Drogba making his way through the French second division, you think, why couldn't I?," Moffi reasoned.
"And then you say that I could be. That sneaks into your head, you keep doing it and you start training harder. Now Sadio Mané and Mo Salah are the standard bearers for Africans.
"You reason, if an African has a chance to win the Ballon d'Or, why not challenge myself to be also in that position?"
He is now an inspiration too.
"Well … (laughs ) I get messages from friends and boys from the academy in Calabar, where I come from, that they look up to me and that I inspire and motivate them to do their best.
"It is funny at the same time, because I am only 20 and I still look up to others myself. But the fact is that every success of an African in Europe is a pleasure for his entire community. "
Special parents
He learned to play football on the street, in academies in Calabar and Lagos and eventually in the Buckswood Football Academy in East Sussex.
"I was a lazy attacking midfielder until I was 12," he laughs.
"I had to get all the balls, dribbled, created chances and scored, but I left the dirty work to others.
"My father changed me. He said, "You can't play football like that, you have to fight for the ball and be aggressive."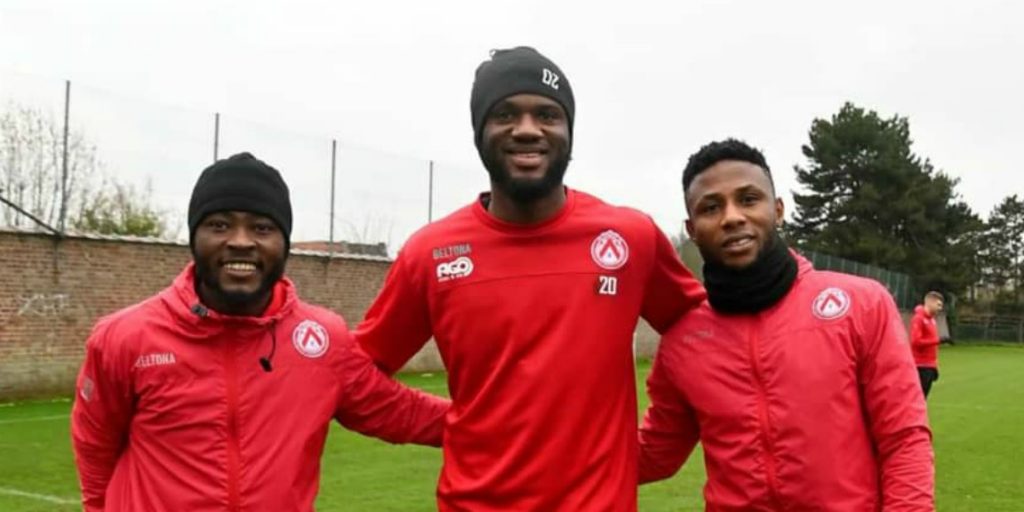 Moffi (middle) with fellow Nigeria stars Imoh Ezekiel (right), Ajagun at Kortrijk training ground
At the academy in my city, the coach also said, "If you don't work, you can't play in my midfield.
"And after a while he concluded that I was not a midfielder, but a striker. "
Little Moffi was obsessed with football. "I was not the smartest in class at school. But if I had only spent half my time in football on my studies, I might have become a genius ( laughs )
"Football was what drove me and determined my choices.
"After three years in the academy in Calabar and nine months in an academy in Lagos, I moved to English college football via the Buckswood Football Academy.
"My coach there convinced me that I am a sprinter and made me the fastest player in the team.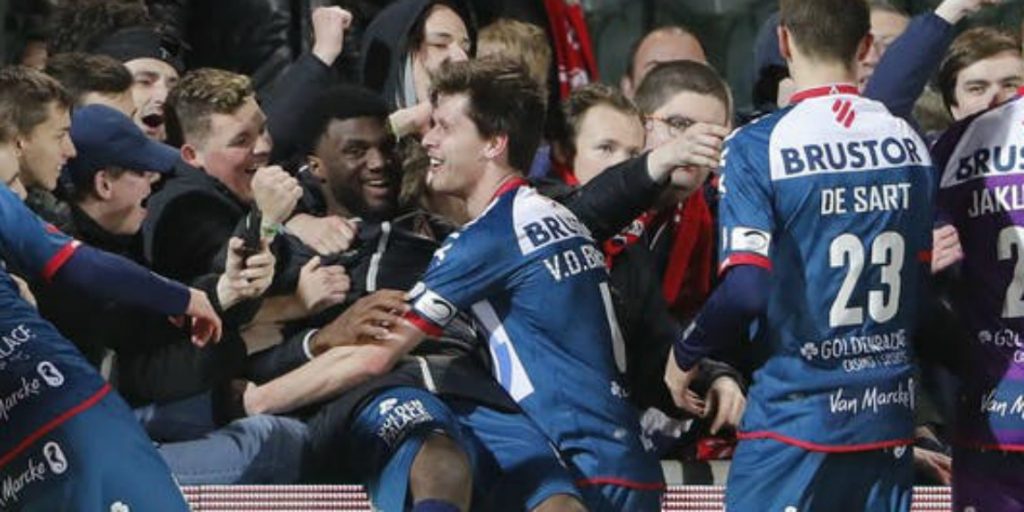 Moffi joins the fans to celebrate a goal
"After 18 months, the assistant coach received an offer from the Lithuanian club FK Kauno Zalgiris and took me there."
But after three months and one goal in eight games, it ended there and Moffi had visa problems.
His last league match with FK Kauno Zalgiris was on October 22, 2017 and his first with FK Riteriai Vilnius he played on March 3, 2019.
"I was waiting for my visa for eight months at home. I even had to travel to South Africa because there is no Lithuanian embassy in Nigeria," he said.
"You cannot imagine what it will do to your mindset if the road to your destination is suddenly uncertain.
"In the meantime, I know how to convert negativity into positivity in moments that I feel down in my head. My mom always says, whatever happens, be happy and let go of everything that puts you under stress. "
He is happy with wise and loving parents, he said this again and again.
"They are really special. They love their children, but also people they don't even know," he said.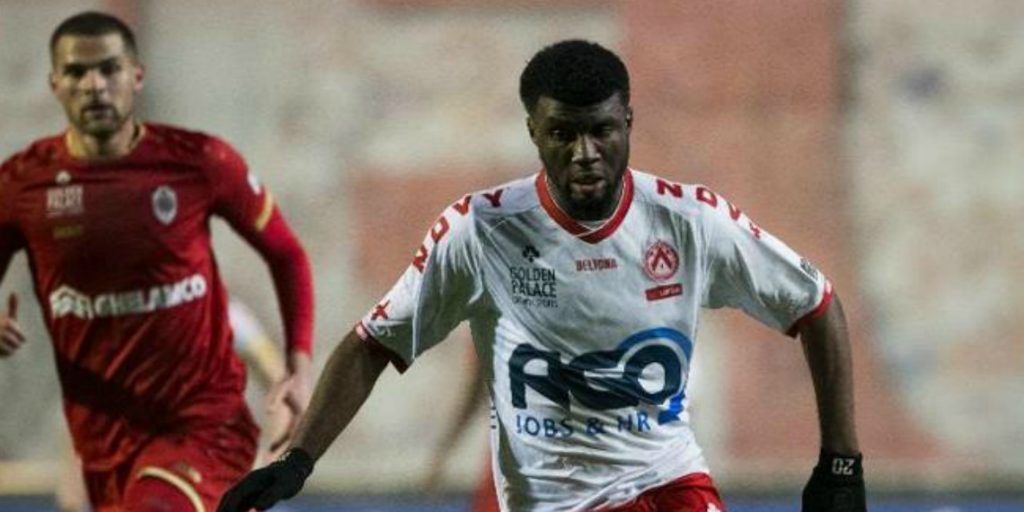 Terem Moffi dazzling
"I'm going to tell you a short story. One day my mother was driving me, to school or to the academy, I don't remember exactly. When she saw a man in need of help along the road, she stopped, took him, looked after him for two years, and even looked for work for him.
"You learn a lot from such a mother. Among other things, that life is not just about yourself and your own family, but about everyone who is distressed. "
Seventh heaven
His patience paid off – at FK Riteriai in Vilnius he broke through last season with 20 goals in 29 official matches.
At the end of 2019, he tested for a week at Mouscron, but was not given a contract there.
"I don't know the reason. When they said "no," I said, "Okay'," he recounted.
"I didn't question it, I accepted it and moved on."
But KV Kortrijk gave him a contract. And he scored four goals for his new club, including on his debut against Club Brugge, it was an effort that started in his own half.
He celebrates his goals in style
"I was really in seventh heaven," he said.
"To make such a goal against such a team, that does not happen every day of course. That gave me so much energy."
And it was not strange for him to celebrate the goal with a somersault.
"I've been doing that since I was little. We grow up with that and challenge each other. Not you?"
Adapted from Sport Voetbal Magazine
https://scorenigeria.com.ng/terem-moffi ... -by-storm/