The only Leicester fan on this forum can't be arsed to update his team's thread. Chia!!!!!
Leicester strengthen grip on second as Maddison sparks win over Newcastle
History finds myriad ways to repeat itself but Steve Bruce could have done without the latest example coming at Newcastle's expense as his players limped – literally and metaphorically – into a new decade.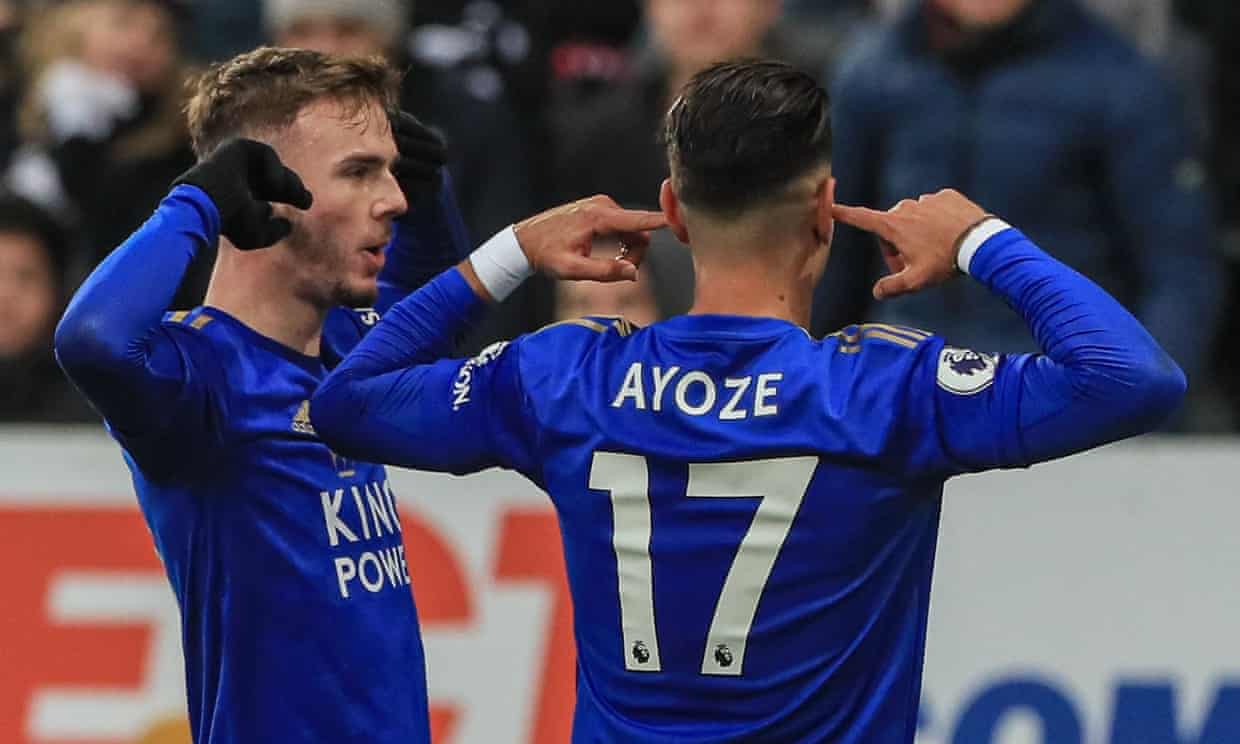 On an afternoon which bolstered Leicester's (albeit somewhat slender) hopes of securing a second Premier League title in four years, Brendan Rodgers's side comprehensively outplayed a 10-man Tyneside ensemble for the second time this season.
Southampton's Danny Ings sinks Tottenham and Harry Kane limps off
Read more
In September in the east Midlands, the score was 5-0 and Leicester signalled their status as serious Champions League contenders. On that occasion Isaac Hayden's dismissal left Bruce's team a man short; this time, an injury to Fabian Schär shortly after half‑time, and with all three home substitutes already used, virtually rubber‑stamped Rodgers's latest victory.
It needs stressing that, well before fortune started frowning on Newcastle, James Maddison's excellence had already indicated Leicester would cement their grip on second place. Maddison was outstanding in midfield, at times making even the 10-point chasm between his side and Liverpool seem surmountable.
"We played very well," Rodgers said. "We want to finish as high as possible. The potential excites me."
The sharpness of Maddison's passing and movement in front of a revamped visiting back five not only ensured the injured Jamie Vardy was barely missed but helped his teammates to shred Bruce's gameplan. Indeed with Leicester sometimes enjoying 80% possession, the only mild surprise was that it took the impressive Ayoze Pérez – sold by Newcastle in exchange for £30m last summer – 36 minutes to open the scoring.
By way of exacerbating Geordie gloom, his goal originated with Florian Lejeune's horribly underhit pass being intercepted by the Spaniard. All that remained was for Pérez to cleverly dodge Schär's lunging attentions and direct a right‑foot shot into the far corner.
Poor Lejeune had little chance to compose himself before making another awful mistake. This time his appalling clearance was intercepted by Ricardo Pereira, prefacing Maddison's goal. After shifting the ball on to his left foot, Maddison unleashed a drive which, in whizzing inexorably into the top corner, simultaneously sent defiant messages to Liverpool and Manchester City and destroyed any remnants of new year optimism still lurking on the Gallowgate End.
Fabian Schär's injury meant that Newcastle played much of the second half with only 10 men.
FacebookTwitterPinterest
Fabian Schär's injury meant that Newcastle played much of the second half with only 10 men. Photograph: Nigel Roddis/Getty Images
Bruce's scope for tactical adjustment was negated by the late first-half hamstring and groin injuries to Jetro Willems, Javier Manquillo and Jonjo Shelvey which necessitated their swift replacement by DeAndre Yedlin, Emil Krafth and Sean Longstaff.
With all three substitutes on and the second half barely under way Schär then pulled up with another hamstring pull, promptly hobbling off.
Deja vu descended. Once again Newcastle were down to 10 men and struggling badly against a Leicester side who, by way of variation, slowed the pace to exhibition level before the substitute Hamza Choudhury scored his first senior goal.
Choudhury's dangerous tackle during Leicester's League Cup win here in August left Newcastle's much missed Matt Ritchie requiring two ankle operations and his every touch was duly booed.
Not that the vitriol raining down from the stands prevented Choudhury meeting Wilfred Ndidi's pass and unleashing a rising shot which consigned Bruce's side to a third successive defeat.
"I've never known four players injured within 15 minutes," the Newcastle manager said. "It's bizarre. To play so many games over Christmas is ridiculous and this is the consequence. But Leicester are very good."
https://www.theguardian.com/football/2020/jan/01/leicester-newcastle-premier-league-match-report
_________________
MAGA - Make Arsenal Great Again.
The only reason I can think of that God would have put Trump into office was because He ran out of locusts.