Moderators: Moderator Team, phpBB2 - Administrators
The Year of the World Cup and Predicted Year of Destiny for Osimhen....2025 shaded as a possibility?
Yekini: The Master at his craft.... Record and Memory Still Unchallenged....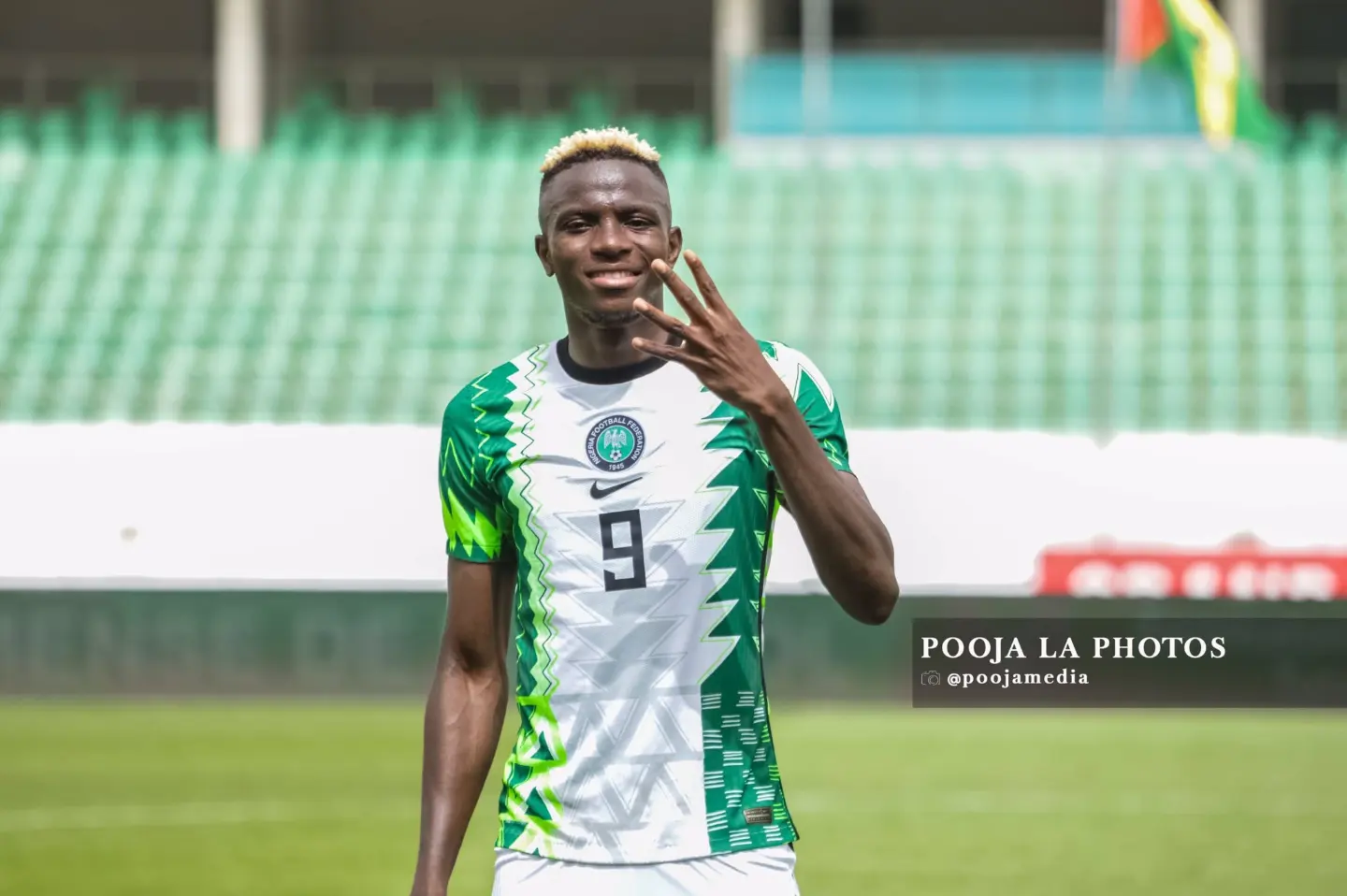 Victor Osimhen Raises Four Fingers.... Four Years from Now he signifies!!! LOL!!
Given Victor Osimhen's recent interview where he admits to gunning for Rashidi Yekini's Nigerian record of
37 goals in 63 games,
one has to think about when Victor Osimhen is likely to eclipse that record barring injury. Already,
Victor's career has been scarred by injuries
some of which have robbed him of appearances for the national team while
his age keeps ticking.
In other words, he needs to be healthy has a chance of eclipsing Yekini's record. So let's assume that he is relatively healthy going forward and his form keeps him starting for Nigeria, in spite of
challenges from multitude other strikers.
Victor has a healthy average goals per game for Nigeria. But one must bear in mind that opponents like Sao Tome e Principe will not come often. Thus, an average of a goal in two games should be more likely and healthy.
With Nigeria playing a little more than 10 games per year and Victor needing around 40 more games to get to Yekini's record, that will take him to 2026
, which is a max of four years from now. Ofcourtse, 2026 is the World Cup year in the United States! Will Osimhen get to that World World Cup with the record already in the bag? That is the question. Now, let's be clear, this is really a
conservative estimate
. A more
aggressive estimate is that Victor secures the record, barring injuries and with an aggressive number of appearances, by the year 2025!
That is just three years from now.
What do you think?
The difficulties of statistical thinking describes a puzzling limitation of our mind: our excessive confidence in what we believe we know, and our apparent inability to acknowledge the full extent of our ignorance and the uncertainty of the world we live in. We are prone to overestimate how much we understand about the world and to underestimate the role of chance in events -- Daniel Kahneman (2011), Winner of the Nobel Prize in Economics
Winner of the Nobel Prize in Economics
---