Moderators: Moderator Team, phpBB2 - Administrators
Egg

Posts: 8958
Joined: Tue Jan 06, 2004 4:11 pm
joao wrote:

Heliopolis wrote:In my 5 years on this forum this is EASILY one of

the dumbest threads I have had the displeasure of coming across

.

Without reservations, I have to
I have been saying this for years on this forum and the results have always proven me right, the blacker year berry the sweeter the juice


"Whoever invented football should be worshiped as a God." Hugo Sanchez, Mexican soccer player and coach
Egg

Posts: 8958
Joined: Tue Jan 06, 2004 4:11 pm
mate wrote:

African Star

I know you're pulling legs. But this is a silly exercise. All those Brazilians teams look by and large the same for me.

Talent is talent. Nobody has a monopoly on it.

I'll give that Brazil has long featured excellent

Black

footballers. But the explanatory factors behind such success isn't their race, but rather everything we discuss on CE: opportunity, program management, facilities, sports science, coaching, and sheer luck in producing special players.

Brazil always had a large population pool. Maybe under modernization less kids per 1000 play football, regardless of color? Maybe Brazil hasn't kept up in the evolution of the game?

I've seen all-Black Nigeria crash at WCs. I've seen all-white Croatia crash at WCs. Clearly nobody has a monopoly on making fools of themselves!

Stay tuned for the emergence of the US. You'll see a diverse team...and how the aforementioned explanatory factors produce a team greater than the sum of the parts. Ironically, I think the US will emerge to provide another consistent tier 1 Americas team...leveraging all our people.

Cheers, Mate
Mate you mae some salient points in regards to "opportunity, program management, facilities, sports science, coaching" if Africa had these things they would be perennial world cup contenders just like hw black dominate basketball, boxing, track and field and key positions in American football. There was a time when Nigeria used to have one or two athletes in the men and women's 100, 200 and 400 meters in the Olympics but since science, doping and advanced training concepts emerged in track and field Nigeria has been left behind and you rarely see Nigerian athletes in those events anymore.
If we are able to incorporate the modern scientific methods in sports Africa would dominate world football, even without it we compete admirably with the best in the world.
My controversial, unscientific reason for this is that when the climate changed in africa and resources became scarce it was the bigger, stronger and faster Africans that were able to dominate the landscape and the weaker Africans were forced out and they emigrated to Europe and other lands where evolution, mutation and adaptation made them white and blue eyed. And I also believed that a latent hatred and fear of the Africans who drove the out still remains in the dna which is why so much hatred and wickedness has been visited upon us by the descendants of these weak Africans who had to use their brains to survive rather than their brawn in harsher conditions while out ancestors basked and chilled in the land of plenty until our weaker cousins came back with guns to dominate us but they still can't run faster or jump higher they just run smarter and jump swifter with the of mother freaking science. That's my theory and I am sticking to it


"Whoever invented football should be worshiped as a God." Hugo Sanchez, Mexican soccer player and coach
Site Admin

Posts: 10545
Joined: Mon Dec 22, 2003 5:02 pm
Location: Around the World
Contact:
As misguided as the OP is...issues around race in Brazil cannot just be dismissed with a wave of the hand..See pictures of poor Neymar , and rich Neymar :
Also read the linked articles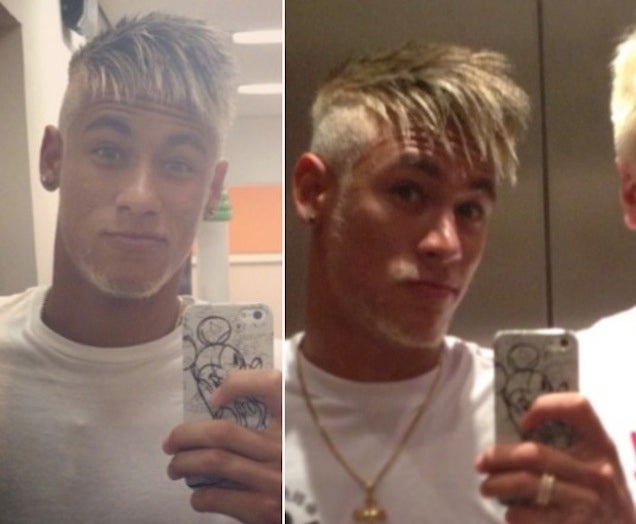 http://blackwomenofbrazil.co/2013/02/21 ... c-figures/
http://screamer.deadspin.com/the-whiten ... 1601716830
How's is Neymar pretending to be white. Such a dumb article
Site Admin

Posts: 10545
Joined: Mon Dec 22, 2003 5:02 pm
Location: Around the World
Contact:
Which of the articles is dumb?
kalani JR wrote:How's is Neymar pretending to be white. Such a dumb article
African Star, have you taken in consideration 'inter-marraiges' between 'Whites' and 'Blacks'. Most of these players look mixed race to me.
By the grace of God I am a Christian, by my deeds a great sinner.....The Way of a Pilgrim
Egg

Posts: 304
Joined: Mon Sep 05, 2005 9:50 am
African Star wrote:OK guys let's list the best Brazilian players if all times. I will start with a few
1. Pele
2. Garrincha
3. Jairzinho
4.Ronaldinho
5. Roberto Carlos
6. Ze Maria
7. Rivelino
8. Ronaldo
9. Rivaldo
10. Vava
11. Carlos Alberto
12. Romario
13.Didi

who you got?
1. Zico and Socrates are not in your list ???
The indomitable lions ; Africa's best team ever.
panafrican wrote:

African Star wrote:OK guys let's list the best Brazilian players if all times. I will start with a few

1. Pele

2. Garrincha

3. Jairzinho

4.Ronaldinho

5. Roberto Carlos

6. Ze Maria

7. Rivelino

8. Ronaldo

9. Rivaldo

10. Vava

11. Carlos Alberto

12. Romario

13.Didi

http://www.nytimes.com/2011/12/05/sport ... .html?_r=0

who you got?

1. Zico and Socrates are not in your list ???
I was not aware that Dr Socrates passed away. May he R.I.P.
Egg

Posts: 304
Joined: Mon Sep 05, 2005 9:50 am
African Star wrote:If you guys know the history of Brazil and their football you wouldn't be making these statements, this is not the first time Brazil has attemted t whiten the team and if you guys notice this Brazil team is missing Joga Bonito.

The reason why this team is missing Joga Bonito is that several years ago Brazil decided to develop a pay academy system like in the US where players pay to go get developed, obviously this system requires players with money and ultimately all these academy systems pioneered by Zico and other former players were located in affluent neighborhoods, affluence in Brazil is correlated to being white. Then the Brazil youth national teams started focusing their recruiting efforts on these academies as their players were being hyped by the academy directors and they neglected the unstructured favella player base where jogo bonito and samba players reside.

As a result we are now seeing more players from more affluent backgrounds (read white) infiltrating the system and this all started around the time when Europe started paying European transfer fees directly to Brazilian clubs bringing millions of dollars into the trade and making Brazilian players millionaires overnight. And off course this lucrative business had to be taken away from the favellas and that means leaving the jogo bonito players behind as players developed in academies from very young ages tend to be more like European players as you can see in the current Brazzilian team, white players from affluent backgrounds with no jogo bonito in them, when did Brazil start having players with names like Maxwell, Bernard, David, Hernanes, Oscar and Danny?

My unscientific theory is that if your name does not end in O then you cannot be a jogO bonitO players.
The "names" of brazilian are usually nicknames or their first names. Neymar = Neymar da Silva Santos Júnior / Ronaldinho=Ronaldo de Assis Moreira / Cafu = Marcos Evangelista de Moraes /
As for your theory, only 5 of the 23 players of Brazil had already played a world cup before : julio cesar, maicon, dani alves, ramires and fred (2 minutes against australia in 2006). They didn't have any experience, and they had even more pressure because they were playing at home.
We can discuss race problem in Brazil or within the national team but the poor display of brazil is not linked to the fact that the players are white or black. The question is : did scolari choose the best brazilian players available (black or white) ?
The indomitable lions ; Africa's best team ever.
This Brazil team lacked creativity not race. Careca, Zico, Socrates, Tostao, Zagalo were all great white players who played joga bonito and whom all came from privileged backgrounds. The mistake Brazil made was to throw out the idea of creativity after 1990 and start playing Euro ball which doesn't demand finding the kind of creative genius Brazil is famous for pumping out decade after decade.

Forget the performances of 1994 and 2002. Those teams had outrageous gamechanging creative talent like Romario, Bebeto, Ronaldo, Ronaldinho, Rivaldo and workhorses like Cafu, Roberto Carlos to rely on.

In this world Cup they only had ONE game changing talent. Neymar and when he was injured the mediocrity of Brazil was exposed viciously by Germany who did the same to Argentina when they shackled Messi in World Cup 2010.

Brazil needs to forget the academy and system approach and go back to finding players that play the kind of street football and beach football that produces the magical footballing brilliance they are known for.
O na-abu ife na-eme ufodu e ekolopu anyi adi elota n'ife obuna nwelu mbido ga enwelili njedebe - Celestine Ukwu

"The sun will shine on those who stand before it shines on those who kneel under them." -- Chinua Achebe
AS - soccer is not like basketball. The sport is truly a great equalizer. If soccer was as you claim, Africa wouldn't have left the WC licking its wounds with Algeria, not a SSA country, having the best showing. The audacity of your comments are not only racist af but also extremely retarded with literally no validity.

Then again what can I come to expect from a man who staunchly supports Africa's interests at heart, revolutionary thinking then ran back to Obama worshiping him as it came time to re-elect.
YUJAM wrote:I've been wearing my Egypt avatar with pride
YUJAM the pharaoh
amafolas wrote:are you sure it is People Destroying People and not Politicians Destroying People
"So long as I need to ask you once Lord Snow; are you a brother of Night's Watch or a
*kindperson* boy
who wants to play at war!?"
---