Moderators: Moderator Team, phpBB2 - Administrators
We are here to LEARN.

Does he have a UEFA Pro License?
By the grace of God I am a Christian, by my deeds a great sinner.....The Way of a Pilgrim
Egg

Posts: 9653
Joined: Wed Dec 24, 2003 12:39 am
Contact:
#Qatar2022WC: Regragui exploits reiterate case for domestic trust
Fisayo Dairo
Last updated: 2022/12/11 at 2:13 PM
Fisayo Dairo
Published December 11, 2022
Share
As featured on NewsNow: Sport news
Sport News 24/7 
Walid Regragui has succeeded in making himself a global household name after a 2022 filled with exploits on the domestic, continental and now global level of football coaching.
I first came across Regragui on his coaching journey in 2017 when he led Moroccan club FUS Rabat to Port Harcourt (my base) for a CAF Confederation Cup game against Rivers United.
The moment I heard his name, I quickly remembered that Moroccan excellent right back in their 1-0 win over Nigeria's Super Eagles in 2004 AFCON and moreso, he spoke good English to us which further warmed him into my heart.
FUS Rabat lost 1-0 to United that day, the tactical organisation of his side anchored upon a certain Nayef Aguerd in centre back was enough for me to even fall in love with Regragui's coaching.
#CAFCC:
Regragui scared of Rivers United unbeaten home record
READ:
https://t.co/FeqG9ny5xK
— Adepoju Tobi Samuel
(@OgaNlaMedia) May 24, 2017
- Advertisement -
Although FUS Rabat unashamedly bowed out in the semi final of that year's Confederation Cup 1-0 to eventual champions TP Mazembe, Regragui went in that might so much so that just five years later, he is at the pinnacle of coaching.
In 2022, the France-born stylish man has won the Moroccan League, the CAF Champions League and has suddenly transformed the Atlas Lions of Morocco from a quarter-final placement in January's AFCON to a scary and impregnable unit within months of taking the reins.
In spite of his achievements with Wydad Casablanca in 2022, Regragui was not always an overwhelming choice with the Moroccan Football Federation as Regragui himself recounted his discussion with Federation Chiefs during his negotiations for the job.
WHAT A JOB WALID REGRAGUI IS DOING
pic.twitter.com/3WGC2yGWj8
— 433 (@433) December 10, 2022
"When I spoke with the Federation President, I said I will go with you to the World Cup and maybe beyond it, he said No, No, No, if you're not that successful, you'll leave. The trust isn't there but for me, skills are the most important, if you have it, they should give us (local coaches) the task.
"People talk about experience. We do have Moroccan journalists saying I don't have the experience whereas I've been a coach for ten years and nobody looked to my direction but now seven games (as Atlas Lions coach), I'm in the quarter final, explain the miracle.
"Experience as national team coach doesn't matter, it is skills. Skills are the only measure, if you don't have the skill, then you can leave," Regragui said at the press conference before the Portugal game.
Regragui has done all this, not alone but with the complement of two of his former teammates with the Atlas Lions in Rachid Benmahmoud and Gharib Amzine; affirming the clichéd statement that two good heads are better than one (expatriate), imagine if you now have three?
I looked down from my seating position inside the Al Thumama Stadium when Portugal started a mini onslaught early in the second half and what I saw was this 'Three Wise Men" in deep consultation for about four minutes.
Regragui (c) and his history making assistants
What came out of that discussion was a double change which brought in Badr Benoun, a centre back in place of midfielder Selim Amallah and a like-for-like change in Walid Cheddira replacing En-Nesyri. That stemmed the tide for a larger spell in the game.
Regragui has shown incredible trust in his playing squad and his assistants. He has often substituted players playing for the biggest clubs in Europe for players playing in Morocco or even in Qatar, yet results have never been hit. This is the kind of trust that he has demanded for African coaches by their Federations in his words and action.
African football federations look for the most flimsy excuse to dispense with the services of a poorly supported domestic coach but they stick with the expatriates that tend to fail despite the enormous support they must have accorded them.
Regardless of the outcome of their semi-final clash with France, Regragui and his assistants have paraded themselves as a beacon of renewed hope in domestic coaches, especially in a tournament in which all five African representatives entrusted their teams to domestic coaches.
https://www.aclsports.com/qatar2022wc-r ... tic-trust/
Check out Sooting's website:
https://shootingstarssc.com/
You really think an African can coach? Does an African have the brain power to know about the tactical maneuvers required? LOL.
The difficulties of statistical thinking describes a puzzling limitation of our mind: our excessive confidence in what we believe we know, and our apparent inability to acknowledge the full extent of our ignorance and the uncertainty of the world we live in. We are prone to overestimate how much we understand about the world and to underestimate the role of chance in events -- Daniel Kahneman (2011), Winner of the Nobel Prize in Economics
Winner of the Nobel Prize in Economics
That's why I question the acumen of Pinnick to sanction the hiring of Rohr
Eaglet

Posts: 45187
Joined: Sat Dec 27, 2003 6:41 am
Location: Land of the Terrapins
Contact:
Super Eagus 4 Life!
Made in the image of God that's a selfie!
Super Eagle

Posts: 102581
Joined: Tue Dec 23, 2003 4:58 pm
Location: Earth
SuperEagles

© Bigpokey24, most loved on CE
My post are with no warranties and confers zero rights. Get out your feelings
It is not authorized by CyberEagles. You assume all risk for your use.
All rights aren't reserved
Super Eagle

Posts: 102581
Joined: Tue Dec 23, 2003 4:58 pm
Location: Earth
So our African son of the soil used to be team mates with Giroud back in 2008...chei and they now meet in the semis...kai this go sweet well well . VIVE L' AFRIQUE
SuperEagles

© Bigpokey24, most loved on CE
My post are with no warranties and confers zero rights. Get out your feelings
It is not authorized by CyberEagles. You assume all risk for your use.
All rights aren't reserved
Super Eagle

Posts: 102581
Joined: Tue Dec 23, 2003 4:58 pm
Location: Earth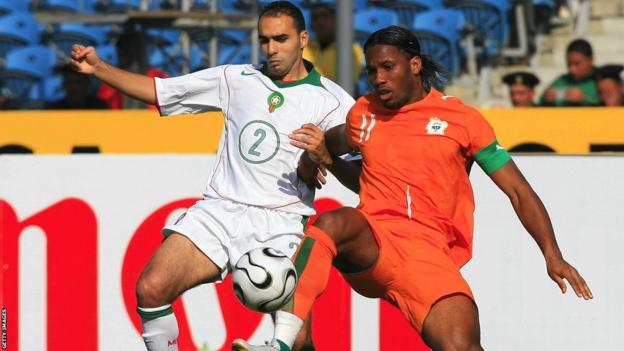 Regragui, who won 45 caps for Morocco between 2001-2009, started every game during their run to the 2004 Nations Cup final
SuperEagles

© Bigpokey24, most loved on CE
My post are with no warranties and confers zero rights. Get out your feelings
It is not authorized by CyberEagles. You assume all risk for your use.
All rights aren't reserved
---