some refereeing decisions were bizarre yesterday, the rashford incident, the clear handball as well, this is where VAR is needed
So angry Nigeria got kicked out of the world cup once again, i nearly told my wife that i caught my girlfriend with another man today!

Marko
Eagle

Posts: 76045
Joined: Fri Jun 10, 2005 6:49 pm
Location: Accra, Old Trafford, Takoradi, Canada
Contact:
marko wrote:some refereeing decisions were bizarre yesterday, the rashford incident, the clear handball as well, this is where VAR is needed
the rashford decision was 100% spot on.
Rashford head-butted Ben Mee. Red Card
Ben Mee got a deserved yc

The handball decision is too bizarre.

5 games sweet o
DNA no good o


Fine Jersey FC

WC Quarter Finals sweet o
DNA no good o

@the Mod who deleted my Fine Jersey FC crying thread...dis 1-2 pain you
1) We are not debating the Rashford red card.
2) We are debating why Phil Bardsley (who is not the same person as Ben Mee) did not also get a red card for the same incident. After all
he demonstrated far more violent/physical acts than Rashford: he kicked Rashford off the ball (potentially a red card by itself) AND butted his head at Rashford too - TWICE!
Rashford gets sent off for ONE head in the face and
Bardsley stays on the pitch after THREE violent acts.

3) Ben Mee should also have been sent off for that handball (which he was NOT punished for).
He was NOT yellow carded. 5 yellow cards were dished out in the match - none of them to Mee who handled the ball to stop a clear goalscoring opportunity. Amazing that of the 6 cards in the match (including the red), 4 went to Man Utd - despite the fact it was Burnley players who committed three violent acts and stopped a clear goalscoring opportunity with a last man handball.


tfco wrote:
the rashford decision was 100% spot on.
Rashford head-butted Ben Mee. Red Card
Ben Mee got a deserved yc

The handball decision is too bizarre.

5 games sweet o
DNA no good o

Rashford was stupid to retaliate but the Burnley defender fouled him when there was no need, that was a bookable offence, the ref was not consistent, had a really poor game
So angry Nigeria got kicked out of the world cup once again, i nearly told my wife that i caught my girlfriend with another man today!

Marko
http://bestwnews.com/sport/why-man-city ... -sent-off/
Jonathan Moss is a tragic-comic excuse for a referee. His "performance" in the Man City v Burnley game at the weekend was shambolic. If I was a Burnley fan or player, I would be fuming:
1) How on earth did Kompany stay on the pitch after that wild and reckless studs up "tackle" into poor Aaron Lennon's groin?! It was more of an assault and battery than an attempt to win the ball:
[/img]
The ref let him get away with
it because it happened in the first 30 seconds of the match
.
2) Man City's second goal was farcical. First of all, Sane dived in a poor attempt to win a penalty. Everyone stopped - thinking the ref was going to award a penalty. He did not, and as the ball rolled out of play,
David Silva (who was off the pitch AND returning from an offside position!

) knocked the ball from behind the goal back into play, and came back onto the field of play without the ref's consent
, to give the ball to Bernardo Silva, who scored after a move
involving 4 separate rule infringements in the space of 2 seconds (dive, offside, ball out of play, player returning to field without ref's consent).
3) Then Sane somehow stayed on the pitch after a wild kung fu kick at poor Matt Lawton. The kick would not have been out of place in an MMA match.
4) City should have been reduced to 9 men.
Silva standing outside the field:
Silva playing the ball back into play from behind the line:

How on earth did Shelvey escape a red card for that murderous X-Rated studs up assault on Pogba yesterday? Shelvey made no attempt to play the ball and simply stamped his studs high on Pogba's leg.
The ref did not even give him a yellow card for a potentially career ending "tackle"
.

I am amazed that the Man Utd players did not make more of a scene of it. Too many pacifists in that dressing room. Imagine if an opposition player did that to a Man Utd player back in the days when they had Keane, Robson, Ince, Schmeichel, Bruce, Hughes, and Cantona in the team. It would have been WW3...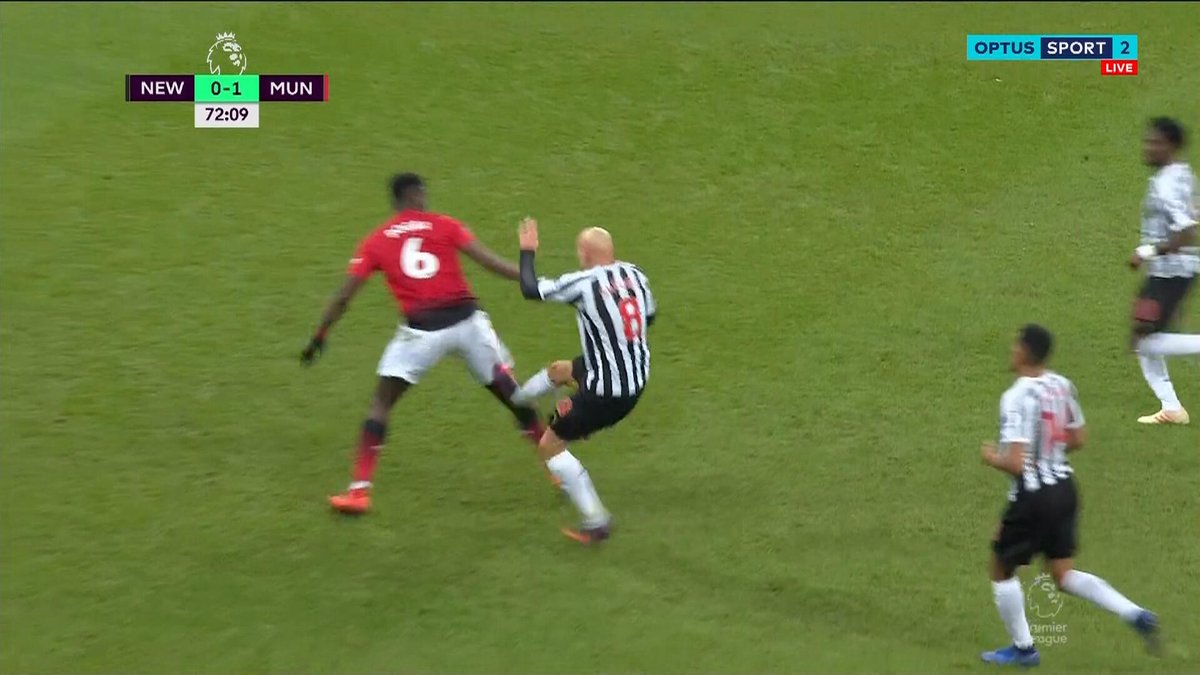 Poor refereeing and VAR yesterday against Palace. All the talk will be off Rashford missing a penalty (which was well struck BTW and on another day would have gone in off the inside of the post). United should have had THREE penalties yesterday. How did VAR not award a penalty after Kelly wrestled Martial to the floor in the box like some Olympic wrestler? Arguably there should have been a third Rashford was also fouled in the box after his penalty miss by Kelly - again. Arguably those 2 challenges by Kelly on Martial and Rashford should have = red card.
Egg

Posts: 9506
Joined: Fri Dec 26, 2003 7:55 pm
What does this thread have to do with the SuperEagles


Cheers.
Man Utd were shocking against Sheffield Utd and did not deserve to win the game. However that does not excuse the two appalling refereeing decisions which had pivotal impacts on the game (allowing Sheffield's first goal to stand after one of their players shoved De Gea to prevent him from reaching the ball and disallowing a perfectly good goal by Maguire).

I usually call out bad refereeing decisions against Man Utd, but two bad decisions went against Southampton today:

1) Che Adams looked narrowly onside for that goal that was disallowed for "offside".

2) That was an appalling decision to send off Bednarek. It was a borderline penalty, let alone a red card.

Man Utd would have won it anyway, but those two decisions were shocking.
Where are the "Man U get too many penalties" brigade now? Hudson-Odoi flapped his arm like a bird and handled the ball in the box. Let us look at the incident:
1) Was his arm away from his body? - YES
2) Did the ball touch his hand? - YES
3) Did the incident occur in his penalty area? - YES
So why on earth was a penalty not given? Scandalous.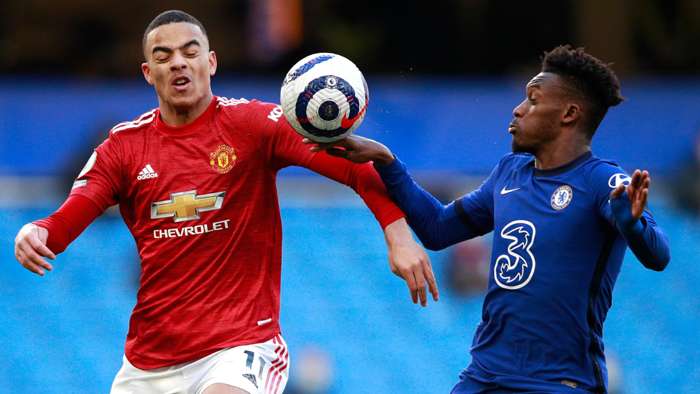 https://www.youtube.com/watch?v=zquDNNpYkzU
[/video]
That was an utterly scandalous display of "refereeing" by Martin Atkinson and VAR. Fair enough if Atkinson somehow missed Zouma's blatant foul on Ronaldo, but for VAR not to tell Atkinson to take a second look was criminal. Then 1 minute later, the same VAR that ignored Zouma's foul in the box on Ronaldo, told Atkinson to review the monitor for the Shaw handball. If not for Moyes' dire decision to bring on Mark Noble to take the penalty cold (and De Gea's save), that non-penalty call on Ronaldo would have cost Man Utd the game. Then there was the ridiculous "free kick" awarded against Pogba when Zouma jumped over his leg.

As I have often said on this forum - ref decisions go against Man Utd all the time. However no one talks about them because most of the time, Man Utd go on to win the game anyway.
---